Johnston, "Shooting your Past" Caithness Horizons
27th September 2009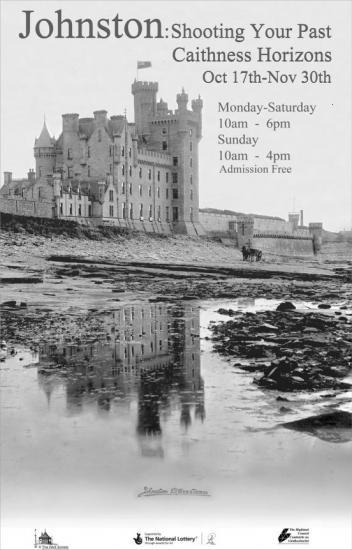 Caithness Horizons, Thurso
17 October - 30 November
Monday to Saturday 10am to 6pm
Sundays 10am to 4pm
Admission is free.

The Johnston photographic collection, amounting to some 50 thousand glass slides and negatives represents the work of three generations and four photographers from the same local family spanning the 113 years from 1863 to 1976 and is owned by and based at the Wick Society's award-winning Wick Heritage Centre in Bank Row.

In recent times the Society has produced some large format images up to A1 size (594mmx841mm or 23.5''x 33'') with quite spectacular results. Successful applications for funding to "Highland Culture" and "Awards for All" has enabled the purchase of computers and a high specification A1 printer allowing the production of a range of high quality Johnston images for exhibition and sale.

Following very successful exhibitions in Wick and because the Johnston family ran a photographic studio in Thurso from 1896 until 1938, the latest venture of the Wick Society, is to hold an exhibition of Johnston Photographic images of Thurso and area, entitled "Johnston, Shooting your Past" in Caithness Horizons from October 17th through to November 30th, this exhibition will be open Monday to Saturday 10am to 6pm and on Sundays 10am to 4pm, admission is free.

Prints will be available for sale in a range of sizes from A4 up to A1 at this exhibition, which is being organised by the Johnston section of the Wick Society.