Wee Stories in "The Sun, The Moon And A Boy Called River".
26th September 2009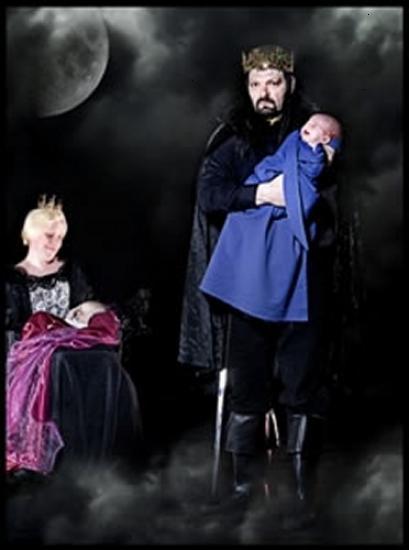 Lyth Arts Centre - 6 October 2009
Time: 18:30:00 Length: 1 hour
Age suitability : 5+

One of Scotland's favourite theatre companies is back again to give eight day-time school performances for local primary children plus this extra early-evening public performance. Not to be missed, Wee Stories have great stage craft and a delightful sense of humour.

Two babies, born at the exact same moment, under the exact same moon. One born a princess in a palace, the other the son of a poor woodcutter. A prophecy foretells they will marry, but the evil King will stop at nothing to prevent his daughter from marrying a commoner. An enchanting tale of good against evil and an unattainable quest with many surprises along the way! Told in Wee Stories' unique story-telling theatre style by Andy Cannon & Iain Johnstone and with evocative live music from harpist Jennifer Port, The Sun, the Moon and a boy called River will be a magical night out for the whole family.

www.weestoriestheatre.org

Related Artists
Related Articles
Posted 16/03/20 on Lyth Arts Centre web site by Calvin Wilson [Last updated: Tuesday 17 March, 10.30am]. Here at Lyth Arts Centre, we've already taken steps towards keeping our audiences happy and healthy with the recent Coronavirus developments.
Danish duo Andreas Tophøj and Rune Barslund perform with violin, accordion and viola. The accomplished duo has its roots in Jutland, Denmark, and emerged from the folk scene formed around the Academy of Music in Odense, which until recently was named after composer and musician Carl Nielsen.
SCOTLAND'S YEAR OF COASTS AND WATERS 2020 Posted 06/01/20 by Charlotte Mountford Happy New Year! January marks the beginning of Scotland's Year of Coasts and Waters 2020. This year, Scotland celebrates its Coasts and Waters with a year-long programme of events and activities which will shine a spotlight on these vital elements of our landscape.
7th and 8th December 2019. Saturday 7th December - Sold Out.
The ancient folklore tradition of 'buying the wind' was common across Caithness and the fishing routes of the North Atlantic. The tradition involved sailors purchasing 3 knots of thread, rope or fabric, to be undone as wind is required, but the mariner is instructed on no account to untie the third knot, as it may start a hurricane.
6th December 4.00 - 9.00pm. handmade home grown willow baskets lichen inspired art greetings cards string dogs handmade paper art turned wooden xmas trees childrens books written & illustrated by Liz O'Donnell There is also FREE fun for all ages - come along and join in with Lyth Arts Centre's Wishing the Wind outdoor light installation - make a wind spinner to hang on the tree!.
Starts: 4:00pm Ends: 9:00pm. An indoor market with stalls from local artists and makers, supplying you with all your Christmas gifts and goodies.
Caithness Young Company will be holding a workshop for anyone interested in going to Drama College, but doesn't know where to start. This workshop will take you through the different types of auditions and the various drama courses available in Scotland.
Sunday 7th July 2019 At Duncansby Head - 2.00 - 3.00pm. Book on Lyth Arts web site.
Lyth Arts presents an unusual performance on 21st July 2019 at a secret location between 6.00pm and 7.00pm. Location to be announced later.