George Gunn Steps Down As Artistic Director of Grey Coast
21st August 2009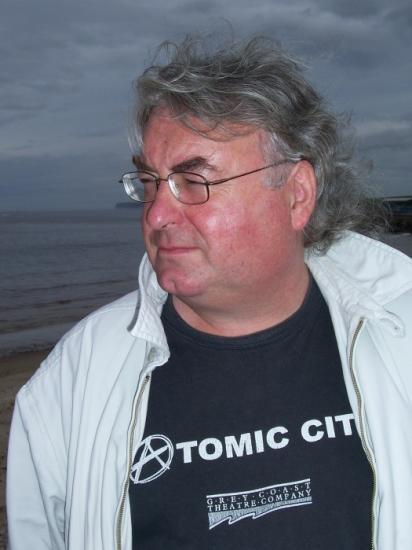 After 17 years and more than 35 productions, George Gunn is stepping down as Artistic Director of Grey Coast Theatre Company. George founded Grey Coast in 1992 to produce theatre which is relevant to the culture of the North, to promote new writing for the theatre in the North and to bring the culture of the North of Scotland to the rest of the country through locally produced theatre.

George Gunn emphasised that his vision for the Company had never been simply to produce his own work but that it should become a strong, independent organisation.

'I am very proud to have of what Grey Coast has achieved over the years and I am sure that it will continue to play an important role in the cultural life of the Highlands and Scotland nationally. Over the years, I have worked some great theatre artists from Scotland, Ireland and Scandinavia and I've enjoyed every minute of it. I am glad that Grey Coast will continue this work but the time has come for me to move on.

Running Grey Coast has taken all of my time and energy over the years and the last couple of years have been particularly difficult. The whole environment for theatre has changed - funding is far more difficult, the agencies who are supposed to be supporting culture and the arts in the North are completely ineffective and the situation for the small touring companies has worsened across Scotland.

'We've been touring less over the last couple of years while we've been looking for a way to ensure that the core work of the Company - to encourage as many people to participate in the arts and explore their own culture as possible - continues and I think that the Company has found a way to achieve this. In the meantime, I have been working on a lot of other projects - I have a new collection of poetry coming out soon and, as a playwright, I have started to work with other companies and on new collaborations outside the Highlands.'

Gail Ross, the Chair of Grey Coast, said the contribution that George has made to the cultural life of the North through Grey Coast Theatre Company should not be underestimated. 'I know that as a poet and playwright he will continue to be a major influence both in the County and across Scotland.' said Gail. 'He will also continue to be a significant part of the ongoing work of the Company - the next two theatre projects for the Company will both include new work by George Gunn. Grey Coast's contribution to the Caithness Arts Drama Festival on 4th and 5th September will be Fields of Barley and the Company will be working with all the schools in the county on its Caithness Voices project in the new term which George will be writing.

George founded Grey Coast and the Company will continue to be true to his vision while he moves on in his creative life and finds new ways to contribute to the culture of the North.'

There are no plans to replace George as Artistic Director. Grey Coast will be announcing a new structure and way forward for the Company in the near future but this is a time to thank George for his work, his vision and his unique and unquestionably enormous contribution to theatre in the Highlands.
Related Articles
Caithness Arts will be presenting a mini 'Festival of Drama' early next month. Grey Coast Theatre Company will be spearheading the festival with a new play from Caithness writer George Gunn.
LIGHT IN THE NORTH 2008 - a celebration of the life and work of Neil M. Gunn Sat.
David Anderson is starring in 'Mobile' touring in the north next week. Dave Anderson well known for his role as the bank manger in the TV comedy series 'City Lights' delivers a show ful of humour and one liners.
For a larger version of the poster go HERE You may need to click on it to enlarge it. Where And When Dunbeath, Caithness - 8th -10th November 2007 Three Caithness organisations have joined forces this year for a three-day festival called 'Light in the North - a Celebration of the Life and Work of Neil M.
Butcher's Broom by Neil Gunn was published in 1934. George Gunn and Grey Coast Theatre have produced their own version adapted with songs by George Gunn and andy Thorburn.
A completely unique, never-to-be-repeated event: ten inspiring directors, ten surprising locations, ten brand new pieces of simultaneous site-responsive theatre created across the country to mark the launch of the National Theatre of Scotland. In Aberdeen, Caithness, Dumfries, Dundee, East Lothian, Edinburgh, Glasgow, Inverness Shetland and Stornoway With 10 directors - Graham Eatough, Scott Graham, Stewart Laing, Matthew Lenton, Kenny Miller, Anthony Neilson, Alison Peebles, Gill Robertson, John Tiffany and Wils Wilson.
Saturday 10th December 8pm "RED FISH" is an exciting new development for Grey Coast Theatre Company as it is the first time the company has been awarded a Scottish Arts Council music commission which has enabled long term Grey Coast musical collaborator Andy Thorburn (of Blazin' Fiddles etc.) to write music for the company well ahead of the pressure of production. "RED FISH" is the unbelievable story of a Klondike in the north, of a small town which literally blows up.
OEDIPUS THE CHIEF, a new play by George Gunn will be performed by Grey Coast Theatre Company at LYTH ARTS CENTRE, Caithness at 8.00 pm on Saturday 18th June. A dynamic presentation directed by Eric Tessier-Lavigne in a moved reading with JULIA DALKIN, ADAM ROBERTSON, BRIAN SMITH, FINLAY MACLEAN and HELEN MACKAY with a community chorus.