Spiggy Topes Record Is Released ... After 50 Years
6th April 2020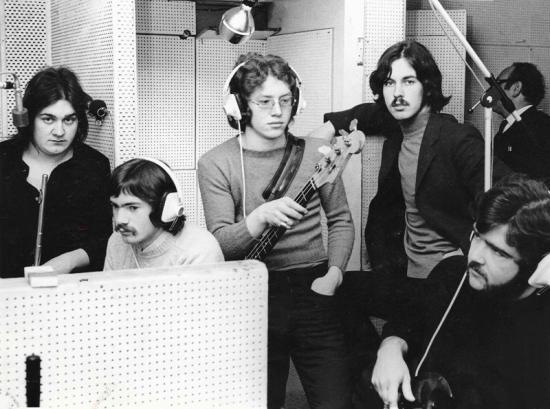 A Scottish band's recording is released in Britain for first time; half a century after it was made in a London Tin Pan Alley studio.

A recording made by a young North of Scotland professional 'beat' band has been released in Britain for the very first time ... fifty years after 'Love in the Wind' was taped at a studio in Britain's Tin Pan Alley.

It is one of two songs recorded in a single day by the band, formed in 1969 in Scotland's only North Coast town, during a single-day session in the West End of London's famous Denmark Street studios ... all for the cost of a bottle of malt whisky!

Spiggy Topes was founded in Thurso, Caithness, at a time when the local economy was booming thanks to the 'white heat of technology' being utilised to the full in the spherical 'dome' at the futuristic fast-reactor nuclear research complex at nearby Dounreay.

Teenage offspring of some of Britain's best atomic scientists and engineers vied ... and co-operated with ... local youngsters to create the most polished, contemporary music.

The band's teenage musicians soon moved to Aberdeen as travel to venues all over Scotland and the North of England was (then) impractical from Scotland's Far North.

Spiggy Topes's newly-released song 'Love in the Wind' had young engineer Dave Humphries at the control desk; he needed a decent-standard band to do the recording of his self-penned number that he envisaged as a theme-tune' for a future TV series.

'Love in the Wind', the only instrumental number that Spiggy Topes ever performed in their regular club, town hall and college student-union repertoire, is featured on the newly-released five CD compilation set C'mon! C'mon!: The Roots of Scottish Pop and Rock 1963-1970.

Spiggy Topes had chosen their memorable name after the one originally used by the Private Eye satirical magazine to refer either to John Lennon or Mick Jagger ... without running the risk of the magazine defaming either. Beatle John had already stated that he had no idea of where the name originated from.

By the time of the London sessions, Spiggy Topes had already played live on BBC Radio One Club's national airwaves, where the Summer mid-day sessions from British seaside resorts had an audience in excess of 20 million ...in the days just before land-based commercial radio stations were legalised.

Earlier Spiggy Topes members had learned some recording techniques at the tiny two-track Grampian Studios in Wick, Caithness, whilst their live radio shows had taught them that songs had to be precisely timed. The former was where the Wick Society's Heritage Museum is now situated..

The London sessions represented a bid by the band to earn a scarce national ... and international ... recording contract, then made doubly difficult because of the relatively few folk in their native North of Scotland; population numbers in a band's home area mattered very much to record companies then.

The band's main songwriters were bassist Johnny Gray ... who was only 16 years old when he first played on his own composition 'First Time Loser' live on Radio One ... and Marek Kluczynski, the band's main singer, who also played flute, harmonica and saxophone.

Mr Gray's older brother Jimmy later became Lord Provost of Inverness whilst it was Marek's late younger brother Mick (1949:2008) ... who had started his music career as the band's van-driver & 'roadie' ...that went on to achieve legendary status as one of the world's top innovative sound-engineers and event producers.

Love in the Wind was written by English songwriter David Humphries, who had envisaged it as the theme song for a future TV series. He needed a competent, level-headed band to arrange and record the tune.

Original drummer Graham Walker later played for years with the late Irishman Gary Moore's Midnight Blues Band which sold over 5 million albums. Graham is still a top session player in London and also played on stage with some of America's finest bluesmen, including BB King.

Roger Niven ... the band's original guitarist .. played on the Wick sessions ... in the terraced street that now houses the town's Heritage Museum ... but not in London.

Arthur Farrell was recruited from Glasgow to replace Roger, who left to study economics & business at Aberdeen University; he later served as an accountant for several decades with the Highland Council in Inverness, but still actively plays in jazz-related bands in the north of Scotland.

One of Arthur's songs 'Mister Sullivan' ... about a haunting ghost ... was also recorded during the London sessions.

But Spiggy Topes's recording activities in Wick and then London did yield a rich harvest.

But this was not for the band in the form of hit-parade success, but for Scotland's Far North, in the form of dozens of jobs in a 'new-style' music business in Wick, Caithness. It lasted for over three decades until its technology became outdated.

London music executive, the late Bob Halfin, ... a veteran of the Spanish Civil War's International Brigade and of the Royal Navy in Scotland during WWII ... was invited to a Spiggy Topes show in Inverness.

Grampian Records boss Jim Johnstone insisted on travelling to meet him and the direct result of further introductions was a cash injection from a prominent London entertainment firm that allowed Grampian Records to switch to becoming a major British 'independent' music cassette factory.

Grampian Records' Wick payroll peaked at over one hundred in the mid-1980s when it churned out hundreds of thousands of cassettes of Michael Jackson's 66 million-selling Thriller album.

Spiggy Topes played twice in Scotland's nearest 'foreign-speaking' neighbour, the Faroe Islands, where they were warmly received.

On both week-long occasions they travelled on otherwise empty seats on charter aircraft carrying select- teams from Orkney and Shetland to play the Faroe Islands football team; at that time inter-island tussles were the limits of Faroe's international soccer ambitions.

A newspaper there sponsored an annual 'Battle of the Bands' talent show featuring amateur folk and pop bands from throughout the island group.

In 1968, it had added a section where readers could vote for the Best International Act. The first year's choice was Ireland's Taste led by guitarist Rory Gallagher.

US-Canadian outfit Steppenwolf whose 'Born to be Wild' song was a major international hit, was the second winner in Faroe.

In 1970, Faroe Islands' 'top international act' was Spiggy Topes; widely thought to be a 'thank you' from young islanders for coming all that way to perform live shows for them.

Whilst in Faroe, Spiggy Topes members met popular Radio Luxembourg dee-jay Dave Christian, who had family connections there.

Later he played some of their demo-discs ... including Love in the Wind ... over the English-language airwaves of the then-popular European commercial station.

On June 6th 1970, Spiggy Topes were one of only three Scots bands billed to perform at Scotland first open-air rock festival at Glasgow's Hampden Park, headlined by Chuck Berry, with Blue Mink & Ireland's Taste as the main support acts. But the whole show was cancelled at the last minute.

Finding it near-impossible to make a realistic profit-margin from touring Scotland ... even including prestige gigs such as backing Deep Purple on their first visit to Scotland at Glasgow's Electric Garden venue ... the lads teamed up with English blues-shouter Cliff Bennett to gain a record deal with America's CBS label, but they had to change their name to Rebellion.

Bennett had scored two top-ten hits during the 1960s but was seeking a new band for a change in direction.

The resulting 1971 vinyl LP was re-released on CD in 2006 and is still available.

Its reviewer states on line: 'This was a solid a body of music as Bennett had released across the previous eight years, and thoroughly contemporary for (for 1971) as well.

'The album is loaded with originals that are mostly the work of bassist John Gray and flautist Marek Kluczynski, who do a decent job of supplying generic rock-soul templates through which Bennett can show off his singing and elevate their work'.

A respondent states: 'To me, this is a killer gem from that great period of rock. Many thanks'

Another states: 'Many thanks, very nice band'.

Unfortunately the C'mon, C'mon five CD sets 'liner notes' fail to mention Spiggy Topes's best claim to rock-music immortality.

After the Cliff Bennett link-up lost impetus, roadie Mick Kluczynski ... whom the band had paid £5:00 per week to look after their amplification and also to act as doorman at self-promoted gigs ... got a job as a labourer with Pink Floyd's 'sound and lights' road crew.

Self-taught Mick, who had learned as a schoolboy by repairing and assembling radio sets and knew his way around electronics by keeping Spiggy Topes's second-hand amplification working, quickly got a hold of matters.

Within two years, he was put in charge of the innovative English rock-band's sound and lighting systems. Later he become a US company director with Pink Floyd's musician members

As their fame grew, Pink Floyd aimed to be able to reproduce their studio sounds live to fan-base that necessitated shows being performed in major sports stadiums.

At that time, the only electronic sound 'experts' capable of achieving this were American engineers from California's Silicon Valley, especially those working part-time for the US band Grateful Dead .

But Mick considered that theirs was 'unfinished work' and he set to with a gusto with his own inventions and innovations.

After Pink Floyd had proven the system ... one that involved Marshall, the major UK amplifier manufacturer, adopting his suggestions ... other famous bands started enquiring about hiring it between Pink Floyd's tours. But, of course the innovative sounds system, needed someone to operate its desks to whom it was familiar, like Mick.

By the mid-1980s, the former Spiggy Topes 'roadie' established MJK Productions in London's West End as an independent ... and still innovative ... firm that over the next two decades catered for a 'Who's' Who' of international British and American rock acts.

Elton John tour dates were initially guided by Mick's availability and he also did the first live tour by the Spice Girls.

Bill Mowat

Available from Amazon - C MON! C MON! The Roots of Scottish Rock and Pop 1963 - 1970 The Rockin Sounds Of Glasgow, Edinburgh, Aberdeen, The Orkneys and Beyond!!5 cd box set

PHOTO

l.to.r. at the studio; singer harmonica-player & flautist Marek Kluczynski, drummer Graham Walker, bass-guitarist Johnny Gray, Dave Humphries (composer and recording engineer) and lead guitarist Arthur Farr.