KNOWBOTIQ'S THULU THU THU, BEFORE THE SUN HARMS YOU
7th October 2019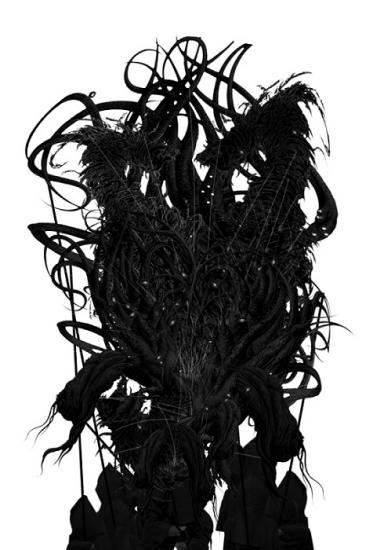 FRIDAY 11TH OCTOBER 6PM

Timespan Helmsdale.

Timespan presents thulu thu thu, before the sun harms you from artist collective knowbotiq. thulu thu thu, before the sun harms you considers the necropolitical landscape of the Flow Country as an unearthly territory to imagine and speculate on future extinction and limits of the planet, where the ghosts of the white Anthropocene - land grabs, dispossession, forced migration, corporate extraction, environmental poisoning – are preserved in deep time and rendered inhuman materialities of the earth.

The artist and performer Ashanti Harris will be facilitating a movement workshop with the collectively braided raffia object, led by a series of incantations, a fractured series of sounds, songs, readings and technocosmologies which respond to the politics of the Anthropocene. All ages welcome from 6+ to grannies!

knowbotiq ( Yvonne Wilhelm, Christian Huebler) will introduce their project and relate it to their ongoing practice which tests how art can open up different imaginaries to understand the multiple and complex ideological and environmental injustices contained within a landscape. We'll provide nuclear-inspired grub and drinks, and all are welcome to join in the raffia braiding with our knitting ladies gang.

We're real happy that the Timespan team has expanded to welcome Adam and Fenella as curators for our soon-to-be-launched YASS! Clubs (Youth Action Social Squad). We'll have tonnes of exciting workshops and field trips which explore the intersections of the arts, environment, social justice and local heritage. They'll take place every Friday 1300 - 1345 (3-7 yrs); Friday 1430 - 1515 (8 - 10 yrs) and Saturday 11 - 1230 (12 - 17 yrs) from 18th October.