Magi Sinclair Exhibition At The Thurso Gallery
5th October 2019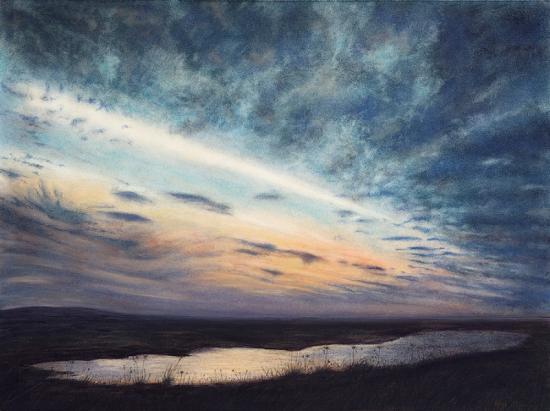 Caithness based artist Magi Sinclair is holding a solo exhibition for High Life Highland at the Thurso Gallery (situated within Thurso Library) from Saturday 12th October to Wednesday 6th November 2019. The exhibition entitled 'From the Causewaymire' comprises 40 pieces - drawings, etchings and paintings - where she has taken inspiration from places and landmarks along the road from Latheron to Thurso.

Speaking about her forthcoming exhibition, Magi Sinclair said "The Causewaymire is one of the last, open areas in the county of Caithness where commerce is currently squeezing the gap ever smaller. The works are mainly based from Latheron to Rangag and feature a wide range of subject matter, trying to capture a sense of the place, from the wide open spaces looking over to the lochs to the small holdings of yesteryear, glimpsed from the road."

"People have lived around this area for thousands of years utilising small parts of it to survive or eke out a modest living. Various markers have been left by them from standing stones and brochs to abandoned settlements and small green patches of cultivation spotted far from the road itself."

Magi has a natural affinity for wild places and has become noted for her large works on The Flow Country focusing on the vast open areas of peat bogs, dubh lochs and the simultaneous weather systems moving over them.

Seasonal weather, different times of day and the variety of plants and wildlife found there are conveyed with sharp observation and incredible sensitivity to detail. She creates images which link to the environment and direct the viewer to appreciate this incredible landscape.

Part of the exhibition is dedicated to a croft called The Corr at Benechielt which lies above the farm where the artist grew up, having had the privilege of knowing the two ladies who occupied the croft house and their passing way of life. The thatched house is disintegrating and is a shadow of its former self, as it is slowly being sucked back into the ground like many croft houses which have fallen into disuse. Encouragingly, much of the surrounding land still has the signs of make do and mend, where fences and dykes were cleverly fixed with whatever was to hand. Magi has produced a small series of studies to reflect this.

Gallery opening times:

Monday 13.00-17.00

Tuesday 13.00-17.00

Wednesday 10.00-13.00

Thursday Closed

Friday 13.00-20.00

Saturday 10.00-13.00

Sunday Closed

The Thurso Gallery, Thurso Library (gallery within), Davidsons Lane, Thurso, KW14 7AF.

Picture

Little Bit Of Light Rangag

See also photo gallery link above.
Related Artists