The Secret North - 22 June at Lyth Arts Centre
5th June 2017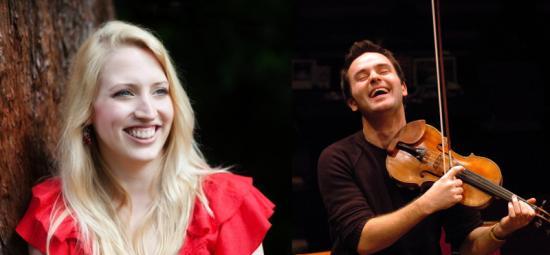 Bringing together six world-class musicians from Scotland, Northern Ireland and Scandinavia in a cross-cultural celebration of new music that bridges the divide between folk, classical, traditional and avant-garde in six new compositions.

DATE: June 22, 2017.
TIME: 8:00 pm.
LENGTH: 2 Hours
INTERVAL: Yes
AGE SUITABILITY: 8+
LOCATION: Lyth Wick Scotland KW1 4UD
VENUE: Lyth Arts Centre

Featuring:

Donald Grant - Fiddle

Ailie Robertson - Harp

Sondre Meisfjord - Double Bass

Karen Tweed - Accordion

Jarlath Henderson - Whistle, Pipes

Marit Fält - Mandola
As musical collaborations go, this promises to be an extraordinary music interchange. Individually, each member has carved out a reputation for not just mastering their chosen fields, but rising above, redefining and renewing the musical world they come from. In The Secret North, they come together to premiere six new compositions, written by each musician specifically for the ensemble, resulting in a concert of enthralling new music, grounded in tradition, but shot through with the adrenaline of contemporary influences. This is music that is both ancient and utterly new.
The Secret North was the brainchild of Ailie Robertson and Donald Grant who have been friends since they were teenagers. Both have played folk music all their lives, but are also heavily involved with the UK classical scene - Donald plays with The Elias Quartet, one Britain's leading ensembles, and Ailie is gaining a reputation as one of Scotland's brightest young composers, picking up the prize for 'Achievement for New Music' in the inaugural New Music Scotland Awards earlier this year. They have worked together on several occasions, and indeed Ailie collaborated with The Elias Quartet on her recent single, 'Haven' which reached #2 in the iTunes Classical Charts last year. 
Speaking about The Secret North, Ailie says, "we were both increasingly interested in investigating where the lines between classical and folk music were, what would happen if we tried to use much larger 'classical' structures but in a folk style." They decided to run what is essentially a musical experiment. "It's like the musician equivalent of the Big Brother house! We put 6 musicians who don't know each other into a house together for a week and see what comes out at the end!". 
Inviting musicians from Scotland, Ireland and Norway to take part is one of the most important factors of the project - the meeting will be a sharing of culture, an opportunity to learn from the different experiences we all have, the different approaches to our traditional and classical music and how we see their roles. Donald says, "It was also very much like writing our musical 'wishlist' of who we wanted to work with - all the invited artists are people whose music we find exciting and inspiring, so we can't wait to create with them!"
Scottish tour dates:
June 18th - Edinburgh, Soundhouse at The Traverse

June 19th - Glasgow, Folklub at The Admiral Bar

June 20th - Isle of Mull, An Tobar

June 21st - Isle of Skye, SEALL at Sabhal Mòr Ostaig


June 22nd - Lyth, Lyth Arts Centre



June 23rd - Lochinver Village Hall

June 24th - Ardross Community Hall

June 25th - Inverness, Eden Court Theatre
Media Enquiries: Jill Lerner of James H Soars Media Enquiries.
07702 230856
jill@jameshsoars.com
Related Artists
Related Articles
We are delighted to invite you to the opening of Lyth Arts Centre's Summer Exhibition: From Wifey to Wifie. From Wifey to Wifie explores the changing roles of women in Caithness from 1918 through to the present day.
Lyth Arts Centre are excited to host one of Scottish folk music's most accomplished singer/songwriters, Orkney's very own Ivan Drever. Now living in Norway, Ivan spends a large portion of his days on the road, touring the length and breadth of the British Isles, USA and northern Europe.
*** Note this event is in the Ross Institute, Halkirk ***Tickets £10. DATE: Friday, 22nd June, 2018.
Shattered, a new play written by Lisa Nicoll will tour Scotland from 19 May. Inspired by interviews and life experiences, Shattered deals with the universal themes of grief, loss and isolation as well as the things that are left unsaid between the people to whom we are sometimes the closest.
Cosy beanbags, craft activities and free popcorn! Bring the whole family along and to enjoy a FREE family film every month here at Lyth Arts Centre. Follow the Facebook page and be the first to find out what our next film will be...
presented by NCM in association with The Ginstress Including a free Rock Rose Gin & Tonic Equal parts historical and hysterical, lose yourself in the company of sailors, barmaids and bootleggers in this darkly comic cabaret. "Not only vocally sublime but a stroke of comedy genius" (TheatrePress), its critically acclaimed stars Maeve Marsden and Libby Wood return to the U.K.
REE, no booking necessary As the Fat Quarter Quilters come to the end of a weeks residency at Lyth Arts Centre, join the quilters and LAC Co-Directors Tom and Charlotte in and informal 'Show and Tell'. Discussing what they have been quilting over the week, this is a great opportunity to to find about more about Fat Quarter Quilters and residencies at Lyth Arts Centre.
*** Note this event takes place at Reiss & Killimster Village Hall *** "Writing Someone Else's Story" is a workshop from In Motion Theatre Company touring to local writers groups in support of our upcoming production of Shattered, showing at Lyth Arts Centre on June 12th. Shattered is a new play inspired by interviews with families who have experienced the sudden loss of a child and the effect it has had on them them years after the event.
The Friel Sisters, Anna, Sheila and Clare Friel are young traditional musicians born and brought up in Glasgow with their family roots firmly entrenched in the Donegal Gaeltacht. They play a mixture of music interspersed with songs in English and Irish, many from their family repertoire.
A unique playroom performance, Innocence invites little ones (and their adults), to explore William Blake's imagination and enter a realm of mystery, fun and adventure. Innocence is a magical theatrical journey led by Scottish Dance Theatre's captivating dancers, with live music, songs, giggles and animal noises by Paul Bradley.