FRANK MCELHENNEY - ILLUSTRATED TALK - 5th August 2016
27th July 2016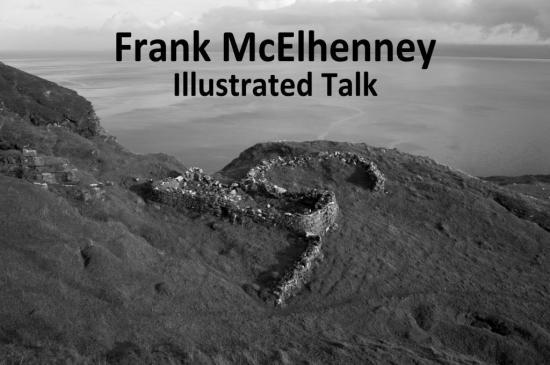 Frank McElhenney is an artist and photographer who lives in Milngavie. He has an interest in nationhood, conflict and mortality. Over the last three years he has exhibited in Scotland, England, Wales, China and Lithuania.

With an unusual approach to photography he is currently working on a project making kite aerial photographs of abandoned settlements throughout the highlands and
islands. Partly inspired by a concern for current global issues of forced migration he views this subject through a Scottish historical lens. Having already travelled to several islands as far north as Skye and to the Outer Hebrides we welcome him to Lyth Arts Centre.

During his two-week residency at Lyth he will be visiting sites in Caithness and would welcome participation by others interested in kite photography and/or local history. He will be pleased to provide transport to and from sites for a few people while others may choose to make their own way there. This is an opportunity to see little-known historical sites in our county and, by using kite photography, gain a clearer picture of their history. Please use the contact form below on how to take part. There will also be an illustrated talk where you can hear about his work please select options below to book.

http://www.jilltoddphotoaward.com/gallery/finalists-gallery-2014/frank-mcelhinney/

DATE: August 5, 2016
TIME: 8:00 pm
LENGTH: 1 Hour
AGE SUITABILITY: 10+
LOCATION: Lyth Wick Scotland KW1 4UD
VENUE: Lyth Arts Centre
Tickets Adults £14, Members OAP's £12, Children , Students, Unwaged £6
Related Artists
Related Articles
Caithness Young Company will be holding a workshop for anyone interested in going to Drama College, but doesn't know where to start. This workshop will take you through the different types of auditions and the various drama courses available in Scotland.
Sunday 7th July 2019 At Duncansby Head - 2.00 - 3.00pm. Book on Lyth Arts web site.
Lyth Arts presents an unusual performance on 21st July 2019 at a secret location between 6.00pm and 7.00pm. Location to be announced later.
Brought To Caithnes by Lyth Arts and playing at Mey Village Hall. 12 July 2019 - 8.00 - 10.00pm.
Join us for the opening of our Summer Exhibition Mountains Underwater: Stroma. The exhibition also features work by local artists, film and audio recordings of Stroma histories, island artefacts and extracts of recent UHI research conducted on the island.
Join us for a weekend of family fun at Lyth Arts Centre this Summer! With outdoor circus, bush craft, story telling, arts & crafts workshops and the puppet caravan there is sure to be something for everyone at Lyth Family Festival! £20 family of 4 £25 family of 5 £6 single ticket Tickets grant entry for Saturday, Sunday or both days. The festival is suitable for all ages and there's lots of fun activities to keep the kids - and big kids - occupied..
Reay Hall, Caithness. 4 July 2019.
Hailing from the north-east of Scotland, Jenny Sturgeon is a singer-songwriter described as a significant new talent on the folk and acoustic scenes. Her passion for music lies in her interest in traditional folk song, combined with creating fresh, new compositions.
Multi award winning guitarists Eduardo Martín & Ahmed Dickinson Cárdenas embark on their first Scottish tour introducing their spectacular album The Bridge. Their fingerpicking artistry tastefully conveys an exuberant mix of contemporary sounds and flavours of Havana City, seamlessly navigating between traditional rhythms and genres such as rumba and mambo, new age, classical and jazz.
Mairi Campbell's five star follow up show to acclaimed Pulse. Mairi Campbell: Auld Lang Syne tells stories of her adventures with Scotland's most famous song - singing for US President Bill Clinton, a starring role in Sex and the City and a reinterpretation of the Robert Burns classic that changed her life.