Caithness to Patagonia
5th March 2016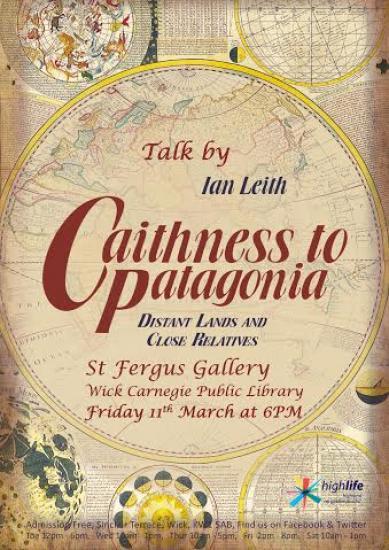 St Fergus Gallery and High Life Highland are delighted to invite you and your friends to join us at a talk by Ian Leith, based on his forthcoming book - Caithness to Patagonia: Distant Lands and Close Relations, on Friday 11th March at 6.00 p.m.

The exhibition Stories of the Strangers; running from 5th March to 9th April in St Fergus Gallery takes its inspiration from tales of emigration and the associated challenges. Ian will continue that theme with stories from the lives and experiences of the Caithness men and women who sailed across the world in search of work and a new life. There are stories of success, accounts of hardship and tales of tragedy.

Ians research brought him into contact with descendants both here in Caithness, and during a trip to Patagonia, with descendants closest to these stories. These are therefore personal family stories, but with the generous support and kindness of descendants we are now able to offer an insight into an aspect of Caithness history.