Nomadic Boulders - Public Meeting On Art For John O'Groats
6th March 2015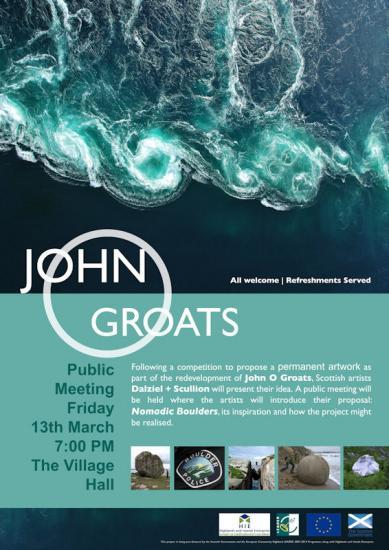 Following a competition to propose a permanent artwork as part of the redevelopment of john O'Groats, Scottish artists Dalziel & Scullion will present their idea.

A public meeting will be held where the artists will introduce their proposal - 'Nomadic Boulders', its inspiration and how the project might be realised.

Public Meeting
Friday 13th March
7.00pm
The Village Hall

Connections to the sea celebrated with 'Nomadic Boulders' artwork

Award-winning Scottish artists Dalziel + Scullion have been commissioned to create a new permanent artwork, 'Nomadic Boulders' at John O' Groats. Supported by Highlands and Islands Enterprise (HIE) and Creative Scotland, the artwork will be a focal point for locals and visitors in the heart of the small Highland coastal village.

Dundee-based Matthew Dalziel and Louise Scullion are Scottish based artists who have worked in collaboration since 1993. The duo has established an international reputation as environmental artists, with their work on such projects as the Scottish Natural Heritage's headquarters, Great Glen House in Inverness; Kelvingrove Art Gallery and Museum Glasgow; and the Science Museum in London.

The artists will work in conjunction with Edinburgh based engineers Blyth & Blyth and the internationally renowned Black Isle Bronze foundry, based in Nairn near Inverness, to develop their unique concept, 'Nomadic Boulders'.

Louise Scullion said: "We are really excited by this project, there are so many interesting stories surrounding John O' Groats, concerning its unusual biodiversity, its local customs and remarkable geology, often these get overlooked by visitors to the area, but when we heard about the rolling boulders of the Pentland Firth, we thought them a unique emblem of just how powerful this mighty body of water is - one of the fastest currents in the world - whose strength is hard to imagine from the safety of the shore. We very much look forward to realising this project with the skilful and experienced team who have committed to it."

Local stories tell of large boulders on the seabed of the Pentland Firth rolling backwards and forwards with the tides, Dalziel + Scullion confirmed the truth of these stories with various experts, including professor Stephen Salter of the University of Edinburgh - who was involved in some of the early seabed surveys of the area - and the European Marine Energy Centre and the Fisheries Research Lab in Aberdeen.

The Pentland Firth's itinerant boulders are thought to range from 25cm to 100cm diameter and depending on the ferocity of tides and currents travel significant distances with every 12 hour tide cycle. Dalziel + Scullion will create a sculpture which will highlight and celebrate this natural occurrence beneath the waves.

A public meeting will be held in the John O' Groats Village Hall on the 13 March at 7:00pm when the artists will introduce and illustrate their idea. The project design team will work with local people, stakeholders and landowners until a final unveiling event at the end of Autumn 2015.

Hilary Budge of HIE, said "We are excited to have the opportunity, working with Creative Scotland, to help facilitate the creation of this imaginative artwork. John O' Groats is a key destination for tourists as well as our local populations, and we believe this piece of work, themed on the power of the Pentland Firth, will provide a fitting focal point to this iconic site."

David Taylor, Portfolio Manager Special Projects at Creative Scotland, said: "We are delighted to partner with HIE in support of Dalziel + Scullion's artwork, 'Nomadic Boulders', a landmark symbol for the 21st century tourist at John O'Groats. We hope the artwork created by these award winning environmental artists will excite and attract tourists to visit the area, and create a lasting legacy for Scotland's most northerly mainland village."

The permanent artwork project for John O' Groats is part funded by HIE and Creative Scotland up to a maximum of £162,000. The budget for this aspect of the project is £118,000. Dalziel + Scullion were chosen after a two-stage procurement process through Public Contracts Scotland.