SEA - Art Fundraiser - Entries Accepted From Now Until 20th June
4th February 2014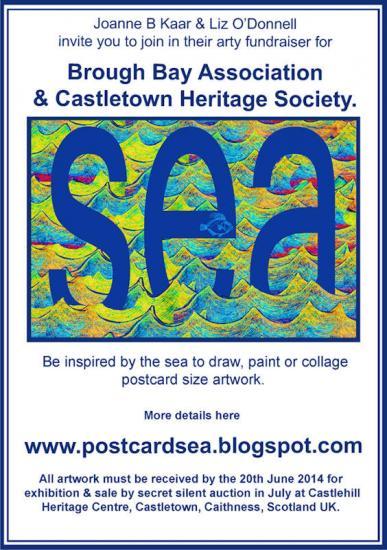 Caithness artists, Joanne B Kaar & Liz O'Donnell, invite you to join in their arty fundraiser for Brough Bay Association & Castletown Heritage Society.

Be inspired by the SEA to draw, paint or collage postcard size artwork for their fundraiser. Exhibition & sale by secret silent auction - July 2014 at Castlehill Heritage Centre, Castletown, Caithness, Scotland UK.

Click HERE to see the blogspot for more information and to keep up with progress
Related Artists
Related Articles
An exhibition featuring work by printmakers with a strong connection to northern Scotland. 9th March - 3 April 2018.
Individual and collaborative works from Highland artists. Location: St Fergus Gallery, Wick Price: FREE.
Caithness artist Elaine Rapson-Grant has a display of her latest artwork coming soon at The Cafe Gallery, Caithness Horizons. Admission is free but you could treat yourself to a cuppa and cake whilst you visit the exhibition.
Debbie Lee An exhibition of textile art celebrating the special landscape along the north coast route from John O'Groats to Ullapool 'Throughout Scotland there are sign posts to direct travellers, 'tourists', off the main route and onto an 'Alternative Tourist Route'. The sign at John O' Groats directing people to Ullapool using the north coast is both inspiring and to me amusing.
Finally, if you are interested to learn the basics of Sashiko stitching technique, traditional Japanese hand embroidery, you can join us at the St Fergus Gallery on Saturday 8th October 10.30-12.30, workshop with Ella Lawrence. £10 per person, hand stitching, kit supplied.
Visit a delightful exhibition "A Little Bit of Summer", Photos of Isauld and Sandside by Caithness based photographer Pat Kieran. 1st - 31st October 2016, St Fergus Foyer Gallery (Wick Library's opening times.) St Fergus Gallery Opening Times Tues 12pm-6pm Wed 10am-1pm Thur 10am-5pm Fri 2pm-8pm Sat 10am-1pm.
A showcasing of Caithness craft through the work of Andrew Bunn, Alice Calder, Lindsey Gallacher, Ian Giles, Jenny Mackenzie Ross, Kelly Munro, Patricia Niemann and Joanne B Kaar. You will be able to view beautifully crafted jewellery, worked Caithness stone and beach finds, ceramic sculptures, pottery and porcelain, glass, wooden and woven objects, finding pieces you might be familiar with as well as being surprised by unusual, more daring works.
A touring exhibition of monochromatic works by Jana Emburey, Beth Legg and Karlyn Sutherland. 1st October – 12th November 2016, St Fergus Gallery, Wick.
St Fergus Gallery and High Life Highland would like to invite you and your friends and family to visit our next exciting exhibition Building Blocks. Building Blocks is an interactive exhibition designed to encourage participation in an online building project using the computer game Minecraft.
The quilting workshop in Wick on Friday this week was completely booked out on the first day it was advertised. Consequently another one has been arranged for Saturday 25th June, 10.30am - 12.30pm.