Artist Fionna Carlisle From Wick Attends Unveiling Of Robin Cook Painting
1st February 2006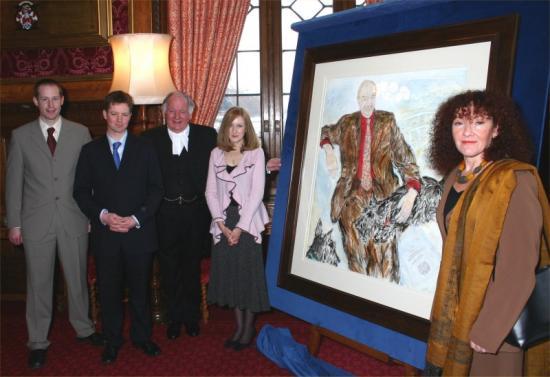 A portrait of the late Rt. Hon. Robin Cook acquired for the House of Commons collection was painted by Wick artist Fionna Carlisle The painting was unveiled by the Speaker, Rt. Hon. Michael J. Martin MP. The reception was attended by Mrs Gaynor Cook, Mr Christopher Cook and Mr Peter Cook.

The portrait is an important new acquisition for the House of Commons Collection. Painted by Fionna Carlisle during the months before Robin Cook's death in August 2005, it depicts the Parliamentarian informally, with his two dogs "Tammy" and "Tasker", named after the Scottish whiskies Tamdhu and Talisker. He chose to wear his racing clothes and asked the artist to include in the background two prominent Edinburgh references, Musselburgh Racecourse and the Firth of Forth. By his hand is a copy of Hansard, dated 17 March 2003, the day he resigned from the Cabinet over the decision to go to war with Iraq.

Hugo Swire MP, Chairman of the Speaker's Advisory Committee on Works of Art, said "We are delighted to have obtained this important picture for the Collection. Robin Cook was a Parliamentarian whose reputation grew over the years and it is quite proper that we should have an image of him. I am certain that this iconographic portrait will become one of our most popular images with the public".

Fionna Carlisle said "He was a joy to paint - a challenging and rewarding sitter, who was very generous with his time. I found him witty and easy company and he took a keen interest as the painting progressed. He wanted his smile in the portrait to show a happy and contented man, which is how he felt". The portrait will join the contemporary parliamentary collection on the first floor of Portcullis Housein London.

The Speaker's Advisory Committee on Works of Art was established in 1956 to advise the Speaker on matters relating to works of art in the House of Commons collection. The current members of the Committee are: Mr Hugo Swire Chairman), Mr Peter Ainsworth MP, Mr Frank Doran MP, Anne Main MP, Judy Mallaber MP, Christine Russell MP, John Thurso MP, and Derek Wyatt MP.