Young People take on 'The Boy and the Bunnet'
11th September 2012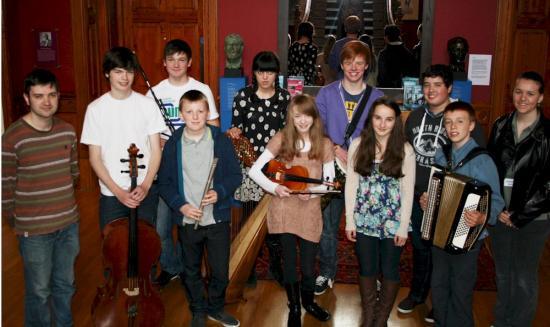 Big Sky, The Highland Council and Fèis Rois have come together to offer an exciting opportunity for secondary pupils in Highland to work with professional composer and pianist, James Ross to rehearse and perform a production of the show, The Boy and the Bunnet.

This tale which was written by James Robertson with music composed by James Ross takes the audience on a magical journey through storytelling, music and animation. The cast consists of seven young musicians, a narrator, technical coordinator, and production manager all from Highland schools.

The cast and crew are busy rehearsing in Eden Court taking on every aspect of the project from liaising with school, organising tour dates, working with animation right through to putting on the final production.

From Carrbridge to Wick the show will be performed in nine primary schools across the Highlands of Scotland as well as a public performance on Thursday 20th September in Dingwall. This is a unique experience for all the young people involved who are aged between 11 and 17 years of age.

The young people are Alan Mackintosh (Carrbridge); Charlotte Failes, Samantha Smith and Conner Jack (Inverness); Catriona Mackenzie (Culbokie); Findlay Spence (Fortrose); Ruairidh Gollan (Edderton); Conal Macdonagh (Poolewe); Alasdair MacKenzie (Dingwall).

Bryan Beattie, producer of the original production in 2011, said: "I'm delighted that this major project for the Boy and the Bunnet is taking place in the Highlands. It's a wonderful show that appeals across the ages, but succeeds brilliantly at introducing primary age children to the delights of traditional music and the Scots language.

"The quality of the young musicians who will be touring in this production is fantastic, they are definitely worth hearing. And praise is due to each and every one of these young people for their commendable work on this project."

Norman Bolton, Music Development Officer for The Highland Council said: "The development of this project which is allowing us to offer a unique opportunity for young Highland musicians is yet another testament to the high quality of music teaching in both formal and informal sector capacities."

One of the musicians, Conal MacDonagh from Poolewe said: "This is a great chance to encourage younger generations to get involved in traditional Scottish music and Scots language and helps to keep the culture alive. It is a great cast of people to work with and a fantastic experience."

The tour starts on Monday 17th with a morning performance at Craighill Primary in Tain followed by an afternoon performance at Golspie Primary School. Over the rest of the week pupils at South Wick, Helmsdale, Gairloch, Dingwall, Carrbridge, Avoch and Bishop Eden primary schools will get the chance to enjoy the show. There will be a free public performance on Thursday evening at 7.30pm in Dingwall Church Street Hall.