Lyth Arts Centre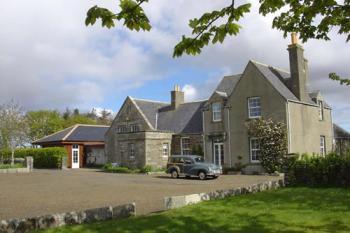 Lyth Arts Centre is a multi-arts centre in Caithness, presenting a year-round programme of live performances. From some of the most exciting small-scale touring companies in Scotland to internationally acclaimed artists, the programme includes theatre, dance, comedy, traditional music, jazz and much more.

Every July and August the performance space evolves into a gallery presenting a visual arts exhibition of local and international talent, alongside a programme of family friendly daytime events.

Lyth Arts Centre is a hidden gem between Wick and Thurso, just a short detour of the NC500 route. Pop in for teas, coffees, homemade cakes and local produce in our cosy lounge and garden.
Postal Address
Lyth Arts Centre
Lyth
Wick
Caithness
KW1 4UD
News for Lyth Arts Centre
Hailing from the north-east of Scotland, Jenny Sturgeon is a singer-songwriter described as a significant new talent on the folk and acoustic scenes. Her passion for music lies in her interest in traditional folk song, combined with creating fresh, new compositions.
Mairi Campbell's five star follow up show to acclaimed Pulse. Mairi Campbell: Auld Lang Syne tells stories of her adventures with Scotland's most famous song - singing for US President Bill Clinton, a starring role in Sex and the City and a reinterpretation of the Robert Burns classic that changed her life.
Multi award winning guitarists Eduardo Martín & Ahmed Dickinson Cárdenas embark on their first Scottish tour introducing their spectacular album The Bridge. Their fingerpicking artistry tastefully conveys an exuberant mix of contemporary sounds and flavours of Havana City, seamlessly navigating between traditional rhythms and genres such as rumba and mambo, new age, classical and jazz.
Lyth Arts Centre 1st March 2019 - 8.00pm - 10.00pm. Join us for our 2019 season opener! A double bill of a new play and a selection of work-in-progress readings by Mull Theatre.
Lyth Arts Centre 2nd March 2019 8.00 - 1000pm. The Nordic Fiddlers Bloc comprise three master fiddle players from three different and very distinctive Nordic regions.
Lyth Arts Centre 5 March 2019 - 8.00pm - 10.00pm Thirteen-year-old Alice wishes her life was completely different. She wakes up one morning to find that her life is different.
Lyth Arts Centre 9th March 2019 - 1.00pm - 2.00pm. Moving school is never easy.
Lyth Arts Centre 7..30pm - 10.00pm Passion Jealousy Revenge. Join us for a rare silent Italian drama with a new live score by six-piece band The Badwills, followed by wild southern Italian folk dancing! Assunta Spina(1915) stars Francesca Bertini, one of Italian cinema's greatest 'silent diva' actresses smouldering on-screen as she's torn between the men who can't control her passions.
£1 TICKET GIVE AWAY!!! This Sunday at 12pm (midday) there will be a limited number of £1 tickets on sale for all of our upcoming shows... yes that's right - £1!!! Be quick as there are only a limited number per show so once they're gone, THEY'RE GONE! CHECK OUT THE PROGRAMME HERE: https://lytharts.org.uk/events/.
Lyth Arts Centre are excited to host one of Scottish folk music's most accomplished singer/songwriters, Orkney's very own Ivan Drever. Now living in Norway, Ivan spends a large portion of his days on the road, touring the length and breadth of the British Isles, USA and northern Europe.
If you contact this Artist, please let them know, you found them in the Arts.Caithness.Org