2009: A Sinclair Odyssey Street Parade Round Wick
31st August 2009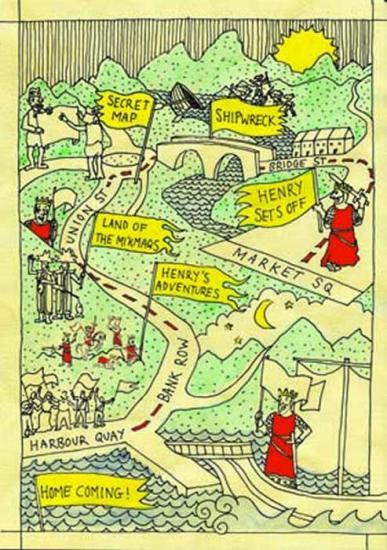 2009: A Sinclair Odyssey
Street Parade
2009: Bliadhna Clann na Cearda Paireid

Presented by

Theatre Modo
in association with Lyth Arts Centre

7.30pm, Friday 11th September 2009
Market Square, Wick, Caithness
Free and unticketed
Dress for a wild night in the North of Scotland.

A thrilling processional extravaganza through the streets of Wick. The legendary voyage to America by Henry Sinclair is brought to life by a cast of hundreds. A spectacle full of adventure, shipwrecks, battles, secret maps, and strange lands featuring giant puppets, historic boats, stilt walkers, fireworks, dancing drama and much much more.

Theatre Modo is working with over 200 young people from across Caithness to create the performance. Groups are involved creating routines using stilt walking, fire performance, dance and street theatre, while others are making props, costumes, lanterns and banners for the event.

The Performance
The performance will take place on the evening of Friday 11th September 2009. The show will start in the Market Square at 7.30pm and process its way through the streets of Wick with scenes happening at various locations along the way, before finishing at the harbour.

The show is based on the legendary voyage to America by the Earl of Orkney and Caithness, Henry Sinclair, in 1398. Following a map given to him by two Venetian sailors that he rescued from a shipwreck, Sinclair set off with 300 men and after several adventures was maybe the first European to set foot on the American mainland. After living harmoniously with the local people for a year he returned to Caithness in triumph.

2009: A Sinclair Odyssey
2009: A Sinclair Odyssey is a year-long community arts project presented by Lyth Arts Centre, exploring the history, heritage and archaeology of Caithness. 2009: A Sinclair Odyssey is a celebration of those that stayed, those that journeyed onwards and those that journey home.

Theatre Modo
Driven by a desire to attract, involve and engage new audiences and participants, Theatre Modo is dedicated to creating vibrant, exciting and uplifting performances, events and opportunities that are artistically ambitious and socially challenging.

Developing and directing participatory youth and community projects across Scotland, Theatre Modo expands access to and involvement in live performance giving participants opportunities to take part in exciting inclusive and accessible activities that stimulate, entertain and educate.

Theatre Modo has great experience of creating high profile and enjoyable public events that foreground local participants while supporting them with excellent professional production and support. In Caithness, Theatre Modo has produced parades for Caithness Arts Festival, the street extravaganza, Assipattle, and for the Northlands Festival; Carmen, The Revel's End and The Burning Knight.
THE STORY

Scene 1: Market Square: Setting Off
The adventurous Henry Sinclair is made 1st Earl of Orkney and Caithness. Having heard talk of distant lands from his Norwegian friends he decides to go on a voyage West. With his most trusted band of knights he sets off.

Scene 2: The Bridge: Shipwreck
Soon after he sets off he comes across a boat that has been shipwrecked. It is being attacked by the wild and savage Skraelings. Sinclair chases away the Skraelings and rescues the sailors. They turn out to be the Zenos, the famous Italian sailors.

Scene 3: The Roundabout: A Secret Map
As a sign of their thanks, the Zenos give Sinclair a map which shows the way to the Americas, and agree to join him on his voyage to discover distant lands.

Scene 4: Academy Braes: The Land of the Mi'kmaqs
The voyagers arrive in the Americas. They are welcomed by the Mi'kmaqs. In return the Sinclairs teach the Mi'kmaqs to fish with nets.

Scene 5: The Blackstairs: Henry's Adventures
Sinclair's crew regale the procession with tales of Henry's adventures; in battle, on boats, fighting fire breathing dragons and monsters of the deep.

Scene 6: The Harbour: Homecoming
Sinclair and his crew arrive home triumphant, where they are welcomed by all, who celebrate their discoveries, their voyage and their return.