Fat Quarter Quilters - Show And Tell
23rd April 2018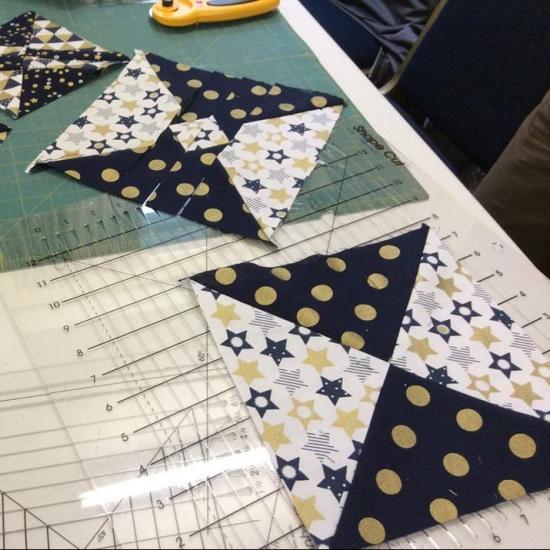 REE, no booking necessary

As the Fat Quarter Quilters come to the end of a weeks residency at Lyth Arts Centre, join the quilters and LAC Co-Directors Tom and Charlotte in and informal 'Show and Tell'. Discussing what they have been quilting over the week, this is a great opportunity to to find about more about Fat Quarter Quilters and residencies at Lyth Arts Centre.



Fat Quarter Quilters is an informal group which meets regularly throughout the year to crochet, embroider, knit, etc., but mainly to work on Patchwork and Quilting projects. We invite tutors occasionally, and work towards an Exhibition in Murkle in November. We have no committee, so everyone steps in to help with whatever needs to be done when necessary.

DATE: Friday, 27th April, 2018

TIME: 11:00 am

LOCATION: Lyth, Wick, KW1 4UD

VENUE: Lyth Arts Centre
Related Artists
Related Articles
Hailing from the north-east of Scotland, Jenny Sturgeon is a singer-songwriter described as a significant new talent on the folk and acoustic scenes. Her passion for music lies in her interest in traditional folk song, combined with creating fresh, new compositions.
Multi award winning guitarists Eduardo Martín & Ahmed Dickinson Cárdenas embark on their first Scottish tour introducing their spectacular album The Bridge. Their fingerpicking artistry tastefully conveys an exuberant mix of contemporary sounds and flavours of Havana City, seamlessly navigating between traditional rhythms and genres such as rumba and mambo, new age, classical and jazz.
Mairi Campbell's five star follow up show to acclaimed Pulse. Mairi Campbell: Auld Lang Syne tells stories of her adventures with Scotland's most famous song - singing for US President Bill Clinton, a starring role in Sex and the City and a reinterpretation of the Robert Burns classic that changed her life.
Lyth Arts Centre 7..30pm - 10.00pm Passion Jealousy Revenge. Join us for a rare silent Italian drama with a new live score by six-piece band The Badwills, followed by wild southern Italian folk dancing! Assunta Spina(1915) stars Francesca Bertini, one of Italian cinema's greatest 'silent diva' actresses smouldering on-screen as she's torn between the men who can't control her passions.
Lyth Arts Centre 9th March 2019 - 1.00pm - 2.00pm. Moving school is never easy.
Lyth Arts Centre 5 March 2019 - 8.00pm - 10.00pm Thirteen-year-old Alice wishes her life was completely different. She wakes up one morning to find that her life is different.
Lyth Arts Centre 2nd March 2019 8.00 - 1000pm. The Nordic Fiddlers Bloc comprise three master fiddle players from three different and very distinctive Nordic regions.
Lyth Arts Centre 1st March 2019 - 8.00pm - 10.00pm. Join us for our 2019 season opener! A double bill of a new play and a selection of work-in-progress readings by Mull Theatre.
£1 TICKET GIVE AWAY!!! This Sunday at 12pm (midday) there will be a limited number of £1 tickets on sale for all of our upcoming shows... yes that's right - £1!!! Be quick as there are only a limited number per show so once they're gone, THEY'RE GONE! CHECK OUT THE PROGRAMME HERE: https://lytharts.org.uk/events/.
We are delighted to invite you to the opening of Lyth Arts Centre's Summer Exhibition: From Wifey to Wifie. From Wifey to Wifie explores the changing roles of women in Caithness from 1918 through to the present day.