Iain MacFarlane - Gallop to Callop Concert 5th December Pulteney Centre.
17th October 2016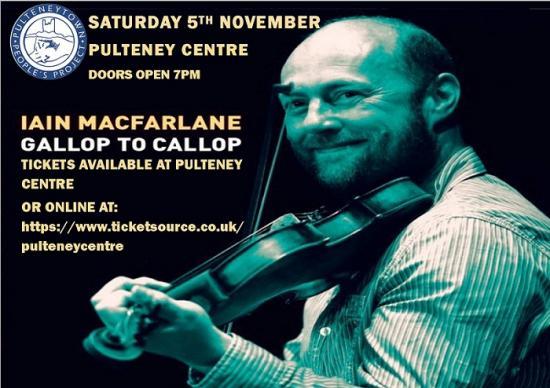 Iain MacFarlane - Gallop to Callop Concert on the 5th December at the Pulteney Centre.

Gallop to Callop is the debut solo album from West Highland fiddler and 'Blazin' Fiddles' founding member, Iain Macfarlane. Recorded at his Old Laundry Studio in Glenfinnan, the album is a culmination of years steeped in traditional music and brings together many wonderful musical alliances.

The album is a wonderful variety of traditional melodies and new compositions, rip roaring jigs and reels and beautifully melodious slow airs, setting the tone for this show, with a line-up comprising of:
• Iain MacFarlane on fiddle
• Ingrid Henderson on piano and clàrsach
• Ewan Robertson on guitar
• Dermot Byrne on accordion
• Megan Henderson on fiddle

"If, in your life, you only listen to one album of Scottish fiddle music this is the one."
Donald MacNeil, Folk Radio

TICKETS AVAILABLE FROM: https://www.ticketsource.co.uk/pulteneycentre

Or we also have tickets at the centre.

There will also be a bar for refreshments!