THE JEREMIAHS LYTH ARTS CENTRE JUNE 5, 2016
27th May 2016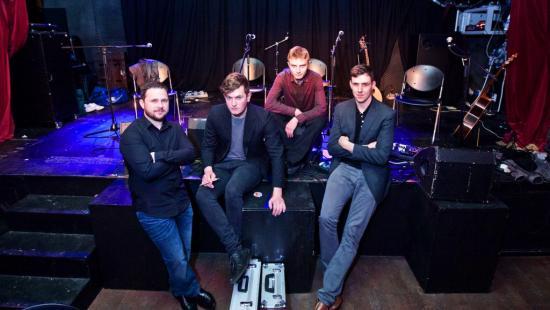 The Jeremiahs combine traditional and contemporary sounds to create their own brand of Urban Folk music. Since founding the band in 2013, they have trail-blazed across Ireland and Europe playing some of the top venues and festivals.

The most creative and important group we have heard in Irish music in years - Irish American News

One of the most exciting bands to come out of Ireland in many a year. Their new album is a cracker - Mike Harding Folk Show

http://thejeremiahs.ie

Tickets on the door £14 (Cons. £12/£6)

Tickets online £12 (Cons. £10/£5) available until 5pm on the day of event. Please select options below.
Related Artists
Related Articles
The Friel Sisters, Anna, Sheila and Clare Friel are young traditional musicians born and brought up in Glasgow with their family roots firmly entrenched in the Donegal Gaeltacht. They play a mixture of music interspersed with songs in English and Irish, many from their family repertoire.
A unique playroom performance, Innocence invites little ones (and their adults), to explore William Blake's imagination and enter a realm of mystery, fun and adventure. Innocence is a magical theatrical journey led by Scottish Dance Theatre's captivating dancers, with live music, songs, giggles and animal noises by Paul Bradley.
Folk Singing. The legendary, multi-award winning Old Blind Dogs bounded into their 25th anniversary year with a cracking new album 'Room with a View' and full houses across Scotland, USA and Germany.
Cosy beanbags, craft activities and free popcorn! Bring the whole family along and to enjoy a FREE family film every month here at Lyth Arts Centre. Follow the Facebook page and be the first to find out what our next film will be...
Be transported to an abandoned cottage on the Outer Hebrides. Brothers Jamie and Lewis Wardrop invite you to experience their installation performance with striking live visuals, electronic sound and the words of the great Highland poets.
*** Note this event takes place in the Pulteneytown People's Project (PPP) ***Inside a replica of a Bedouin tent in the Pulteneytown People's Project, the audience sits on pillows and cushions. Around the top of the tent above a panoramic screen for projections, a starlit sky is visible.
Cosy beanbags, craft activities and free popcorn! Bring the whole family along and to enjoy a FREE family film every month here at Lyth Arts Centre. The first Lyth Arts Centre Family Film Club will be on Sunday 25th February 2018 at 11am.
The tale of an incredible journey, a world turned upside down, loss, friendship, courage and conkers. "When I was eight years old my dad set up a charity to help people fleeing danger in Bosnia.
Twelfth Day is a folk duo of Orcadian fiddler Catriona Price and Peebles harpist Esther Swift. They are classically trained and mix folk, jazz and classical influences, blended with inspiration from their respective Highland and Lowland upbringings.
As a final fling for our 40th Birthday Celebration, there will be a special fundraising Ceilidh with some fantastic raffle prizes, music from Addie Harper, Gordon Gunn and Grant Lyall. We look forward to seeing everyone old and new for a exciting night of entertainment.