New Face of Caithness Visual Arts
27th March 2006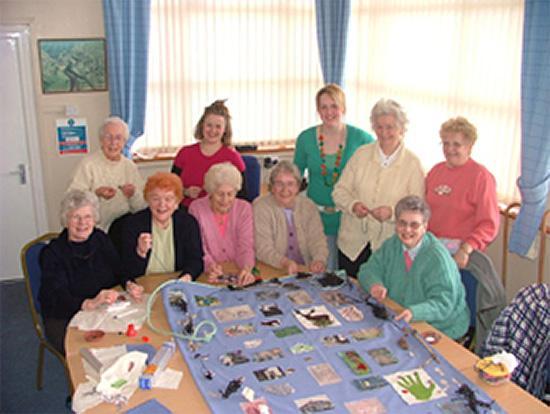 "FaceNorth" visual arts residency run by Northlands Glass and Lyth Arts Centre is now up and running and going from strength to strength. The residency, funded by the Scottish Arts Council and Caithness and Sutherland Enterprise agency, offers the opportunity for local community groups with little or no arts skills to engage with professional artists Kate Williams, Shelagh Swanson and Alistair Pender over the coming months. Fused glass, time based artwork and mixed media assemblage are the three main areas the artists are concentrating on.

Recently over the past several weeks they have been doing outreach art workshops with young people, ladies groups and after school groups in Wick, developing partnerships with community programmes like the Pultneytown Peoples Project and Wick Youth Club facilitated through Highland Councils Learning & Leisure Dept. The emphasis has been to encourage learning through fun practical activities. One young peoples group at Wick Youth Club has been working on a 'Scrap Heap Challenge' project; taking apart old televisions and transforming them into contemporary sculptures to examine the way we perceive television and its influence on modern society.

All the Wick groups have visited the excellent Northlands Glass studios in Lybster and sampled the delights of making etched and fused glass. Kate William's explained "The technique of making fused glass involves combining metal foils, wire and coloured glass pieces sandwiched between sheets of clear glass which are then kiln fired". The culmination of the work produced in Wick can be seen at an exhibition at Lyth Arts centre starting on the 3rd July.

The artists will soon be turning their attentions to working in Thurso in partnership with Ormlie Community Association and Key Housing. They will be working in the Ormlie centre building on the Ormlie estate between 1st April until 13th April. Lorna Simpson of Ormlie Community Association said "We are really excited in Ormlie at the prospect of the three dynamic artists planned series of workshops, particularly as the ethos of the project is an attempt to bring together all age groups and create a shared ownership in the finished artwork." The artwork sessions are open to all age groups in the Thurso area. Interested parties can contact Isabel at the Ormlie Community Association Office for more details on times and specific dates on 01847 891789.
Related Artists
Related Articles
Hailing from the north-east of Scotland, Jenny Sturgeon is a singer-songwriter described as a significant new talent on the folk and acoustic scenes. Her passion for music lies in her interest in traditional folk song, combined with creating fresh, new compositions.
Multi award winning guitarists Eduardo Martín & Ahmed Dickinson Cárdenas embark on their first Scottish tour introducing their spectacular album The Bridge. Their fingerpicking artistry tastefully conveys an exuberant mix of contemporary sounds and flavours of Havana City, seamlessly navigating between traditional rhythms and genres such as rumba and mambo, new age, classical and jazz.
Mairi Campbell's five star follow up show to acclaimed Pulse. Mairi Campbell: Auld Lang Syne tells stories of her adventures with Scotland's most famous song - singing for US President Bill Clinton, a starring role in Sex and the City and a reinterpretation of the Robert Burns classic that changed her life.
Lyth Arts Centre 7..30pm - 10.00pm Passion Jealousy Revenge. Join us for a rare silent Italian drama with a new live score by six-piece band The Badwills, followed by wild southern Italian folk dancing! Assunta Spina(1915) stars Francesca Bertini, one of Italian cinema's greatest 'silent diva' actresses smouldering on-screen as she's torn between the men who can't control her passions.
Lyth Arts Centre 9th March 2019 - 1.00pm - 2.00pm. Moving school is never easy.
Lyth Arts Centre 5 March 2019 - 8.00pm - 10.00pm Thirteen-year-old Alice wishes her life was completely different. She wakes up one morning to find that her life is different.
Lyth Arts Centre 2nd March 2019 8.00 - 1000pm. The Nordic Fiddlers Bloc comprise three master fiddle players from three different and very distinctive Nordic regions.
Lyth Arts Centre 1st March 2019 - 8.00pm - 10.00pm. Join us for our 2019 season opener! A double bill of a new play and a selection of work-in-progress readings by Mull Theatre.
£1 TICKET GIVE AWAY!!! This Sunday at 12pm (midday) there will be a limited number of £1 tickets on sale for all of our upcoming shows... yes that's right - £1!!! Be quick as there are only a limited number per show so once they're gone, THEY'RE GONE! CHECK OUT THE PROGRAMME HERE: https://lytharts.org.uk/events/.
We are delighted to invite you to the opening of Lyth Arts Centre's Summer Exhibition: From Wifey to Wifie. From Wifey to Wifie explores the changing roles of women in Caithness from 1918 through to the present day.