The Beatrice Offshore Wind Farm Demonstrator Project: an Illustrated Lecture
14th August 2013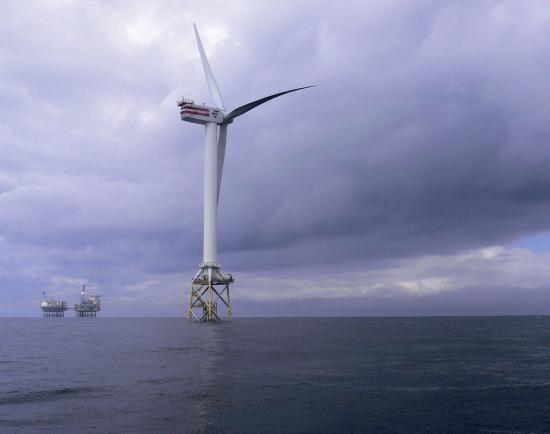 Final part of an education programme to complement Sue Jane Taylor's exhibition
'Beatrice Works' – on display at Caithness Horizons until 22nd August 2013.

Paris has the Eiffel Tower, Bristol has the Clifton Suspension Bridge, and Dundee the
Tay Rail Bridge. Engineering construction that was cutting-edge in its day is continually
superseded by newer, alternatively challenging projects which push the boundaries
of technology ever further in one direction or another. So the Burj Khalifa in Dubai today lays claim to the proud boast of being the tallest building in the world, dwarfing New York's tiddly Empire State Building and all its subsequent record holders. What fantasies will the future turn into a reality of beams and girders?

A wind turbine in the Moray Firth off Latheron might seem to the layperson a mere mote in an engineer's eye in comparison to such upward mobility, but when they were installed in 2007, the two Beatrice Demonstrator wind turbines that wink at drivers following the east coast of Caithness were a global first. On 22nd August Caithness Horizons will host an illustrated lecture by Allan MacAskill who, as Beatrice Wind Farm Director and co-ordinator of Europe's largest renewable energy research and development programme, conceived and developed the project.

Currently Director of Scottish Renewables and a Vice Chairman of the Executive Committee of the European Wind Technology Platform, Allan MacAskill spent 20 years with the BP Group in the UK and North America before joining Talisman Energy in 1998. In 2008 he was a founder of SeaEnergy Renewables, subsequently taken over by Repsol in 2011. In July 2011 Allan formed his own consultancy, MacAskill Associates. His principle role is an as advisor on offshore wind to Repsol and their principle partner in the UK, EDPR.

The Beatrice Wind Farm Demonstrator Project was launched in 2002, a pan-European project funded by Scottish and UK Governments and the European Union, and led by Talisman Energy (UK) Limited and Scottish and Southern Energy. The aim was to produce cheaper electricity for the Beatrice oil platform, and in development there were many elements of of the chosen wind turbine design that were the first of their kind in the world. Each turbine, installed at water depths of 45m, produced 5MW of electricity, requiring the assembly of a tower, turbine, hub and blades onshore before being moved as a single unit offshore and installed from a floating vessel.

Dornoch based artist Sue Jane Taylor was given access to the entire construction process of the Beatrice Demonstrator project in order to document this phenomenon of contemporary renewable engineering. She visited Germany and Denmark as well as Arnish, Methil and Nigg to see the people and technology involved in the complex construction of the turbines. She then travelled offshore to witness their installation in the Moray Firth beside the oil platform. The result was an exhibition of drawings, etchings and painting entitled 'Beatrice Works', currently on display in Caithness Horizons' temporary gallery until 22nd August. The exhibition offers an invaluable insight into the people and technologies that are producing the North Sea's first deep-water renewable energy.

Allan MacAskill's lecture marks the last day of the exhibition in Caithness before it goes on tour to Aberdeen, Kirkaldy and Orkney, and Sue Jane Taylor will also attend the lecture. It is also the culmination of an education programme developed by Caithness Horizons to complement the work while on display in Thurso. The programme resulted in a exhibition of school children's own artwork entitled 'Art in Engineering' – also displayed at Caithness Horizons - and a Family Day in partnership with The Environmental Research Institute, STEM North of Scotland, and the Institution of Engineering and Technology which is also sponsoring the lecture.

This lecture is sponsored by the Institution of Engineering & Technology, and admission is free.

Funding for the education project has been provided by the Scottish Government, the Highland Council, Highlands & Islands Enterprise, STEM North of Scotland, Scottish and Southern Energy [SSE], the Environmental Research Institute, North Highland College UHI, the Institution of Engineering and Technology.
Related Artists
Related Articles
Our next exhibition at Caithness Horizons is called Graffito. Breaking the boundaries of what is art and what gets shown in a gallery, Graffito is an exhibition that celebrates artwork that is available to everyone.
An exhibition featuring work by printmakers with a strong connection to northern Scotland. 9th March - 3 April 2018.
Caithness artist Elaine Rapson-Grant has a display of her latest artwork coming soon at The Cafe Gallery, Caithness Horizons. Admission is free but you could treat yourself to a cuppa and cake whilst you visit the exhibition.
Debbie Lee An exhibition of textile art celebrating the special landscape along the north coast route from John O'Groats to Ullapool 'Throughout Scotland there are sign posts to direct travellers, 'tourists', off the main route and onto an 'Alternative Tourist Route'. The sign at John O' Groats directing people to Ullapool using the north coast is both inspiring and to me amusing.
2nd - 27th February 2016 Caithness Horizons. See the fantastic work by pupils of Thurso High School..
Thursday 10 September, 12.45 -16.30 Caithness Horizons, Thurso (Please note that lunch is not provided, however you are welcome to have lunch at The Caithness Horizons Cafe prior to the event) Running a craft practice is addictive - there is always more to try, new ideas to explore and projects to develop. Growing your business allows you to confidently pursue these exciting new opportunities to strengthen your profile, expand your range of customers and generate healthy profits.
Tuesday 11th August saw local group No Limits Caithness visit the Museum for a morning packed with Viking activities with Curator Joanne Howdle, or Thordis Eiríksdóttir as she is fondly known to local groups and schools. The group helped the Museum to hit the half million visitors mark and to celebrate they were presented with a special cake made in the Museum's cafe.
Cafe Exhibitions Joan Powell 1st June - 30th June Gallery Exhibitions Hazel Cashmore 5th June - 30th August Exhibition preview 6pm - 8pm Thursday 4th June – all welcome Special Events Peters Pals Activity – 27th June Contact Joanne Howdle for more information Seasonal Opening Times: Remember that we are now open 11am – 4pm on Sundays until the end of September..
Caithness Horizons in Thurso has secured Museum Accreditation for the next three years. The award is made by Museums Galleries Scotland and Arts Council England under the 2011 Museum Accreditation Standard.
Cafe Exhibitions Kimirea and John Glen Exhibition Monday 2nd March-Tuesday 31st March A display of work by local artists Kim Reade and John Glen will be on display throughout March. Gallery Exhibitions Committed to Art Wednesday 4th March-Saturday 28th March "Committed to Art" showcases a selection of paintings and sculptures from committee members of the Society of Caithness Artists with the objective of proving that the committee has true empathy with all artists and particularly to those in the Caithness area.